Current updates
*Sunday School Cancelled for Jan. 16th
Due to the increase in Covid cases -- including many of our volunteers and leaders who aren't able to be here this weekend -- we are going to cancel Sunday School and the Sunday evening (5pm) worship service for January 16th.
We plan for Sunday School to resume on Jan. 23rd.
Students - watch for messages from Cody or Kennedy about updates and options for your ministry area.
*10:45am Worship Gathering still happening in-person and online
We will still have an in-person option for the Worship Gathering at the regular time. Feel free to come and join us!
We will also have the online option available through Facebook and YouTube.
*No Extended Session or Elevate Children's Church this Sunday
*No Sunday Evening Service for Jan 16th
*Students (Teenagers)
Watch for messages from Cody or Kennedy about options and updates for your ministry area.
*Nest Moms' Group postponed until Tues, Jan. 25th
*Wednesday Nights postponed until Wed, Jan. 26th
We won't meet on Wed, Jan 19th, but we look forward to starting the meal and groups on the 26th!
I will do another Facebook Live at 6pm on the 19th.
GriefShare and Music Ministry - watch for messages from Jim and Jeron about plans for your groups.
Thanks for being understanding about these changes. Our hope is that a one-week break will allow this wave of cases to pass and that we'll be ready to go with a regular Sunday schedule on the 23rd and a regular Wednesday schedule on the 26th!
Wednesday Night Activities Postponed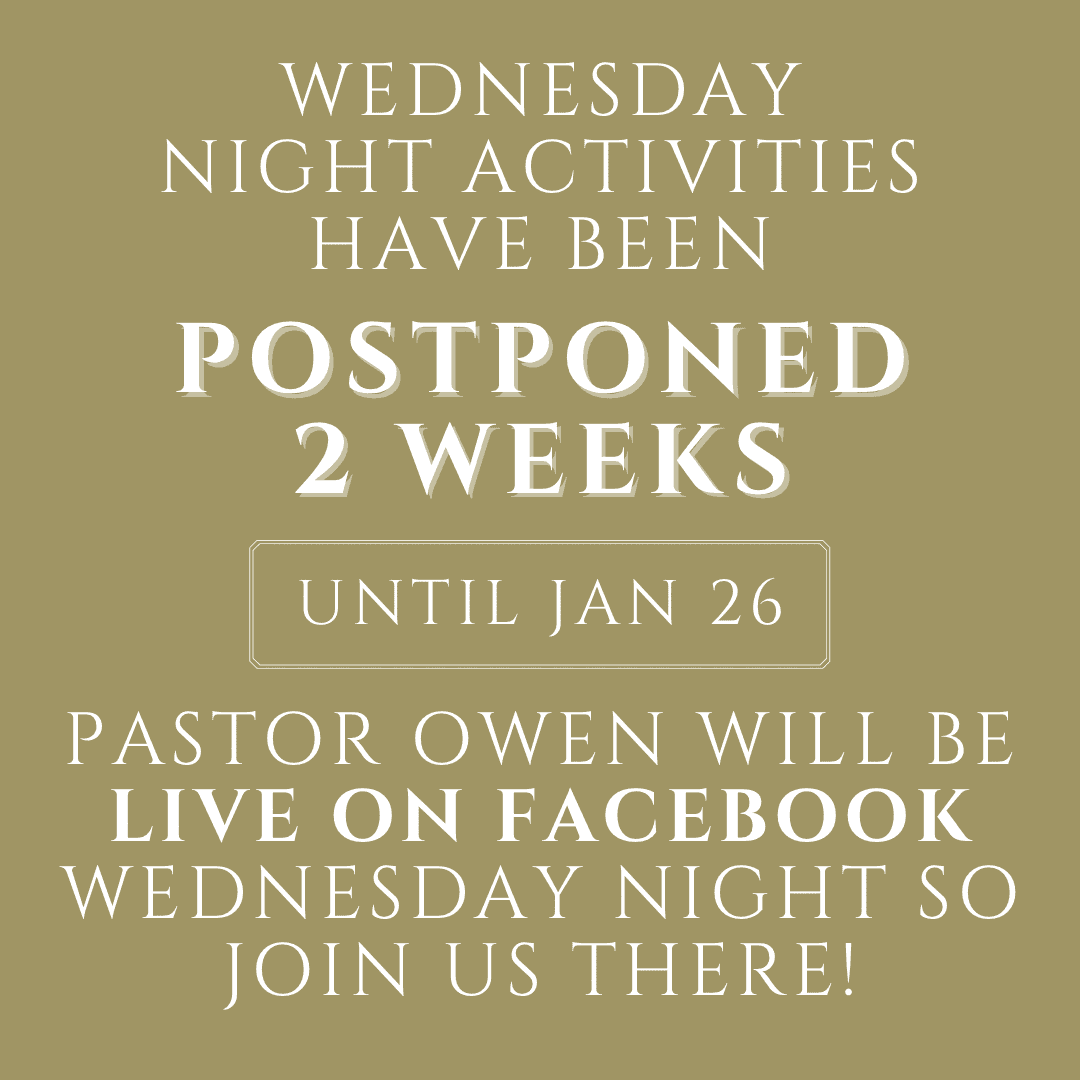 Spring Schedule