We are "On The Way" to:
● An expanded youth room, because we are committed to seeing teenagers reach their friends for Christ and grow in love for God and love for one another.
● A new pavilion, with a small playground and other amenities, because we are committed to families and small groups spending time together, marking key moments in life (birthday parties, anniversaries, weddings), and celebrating God's blessings.
● A multi-use green space in the back field, because we are committed to creating connections with young families and reaching out to our community for the purpose of sharing the Gospel.
● A walking track, with other fun elements such as kid games and some disc golf holes, because we are committed to prayer walking, building friendships, honoring God with our bodies through exercise, and enjoying the gift of being outdoors.
Make A Pledge
Master Plan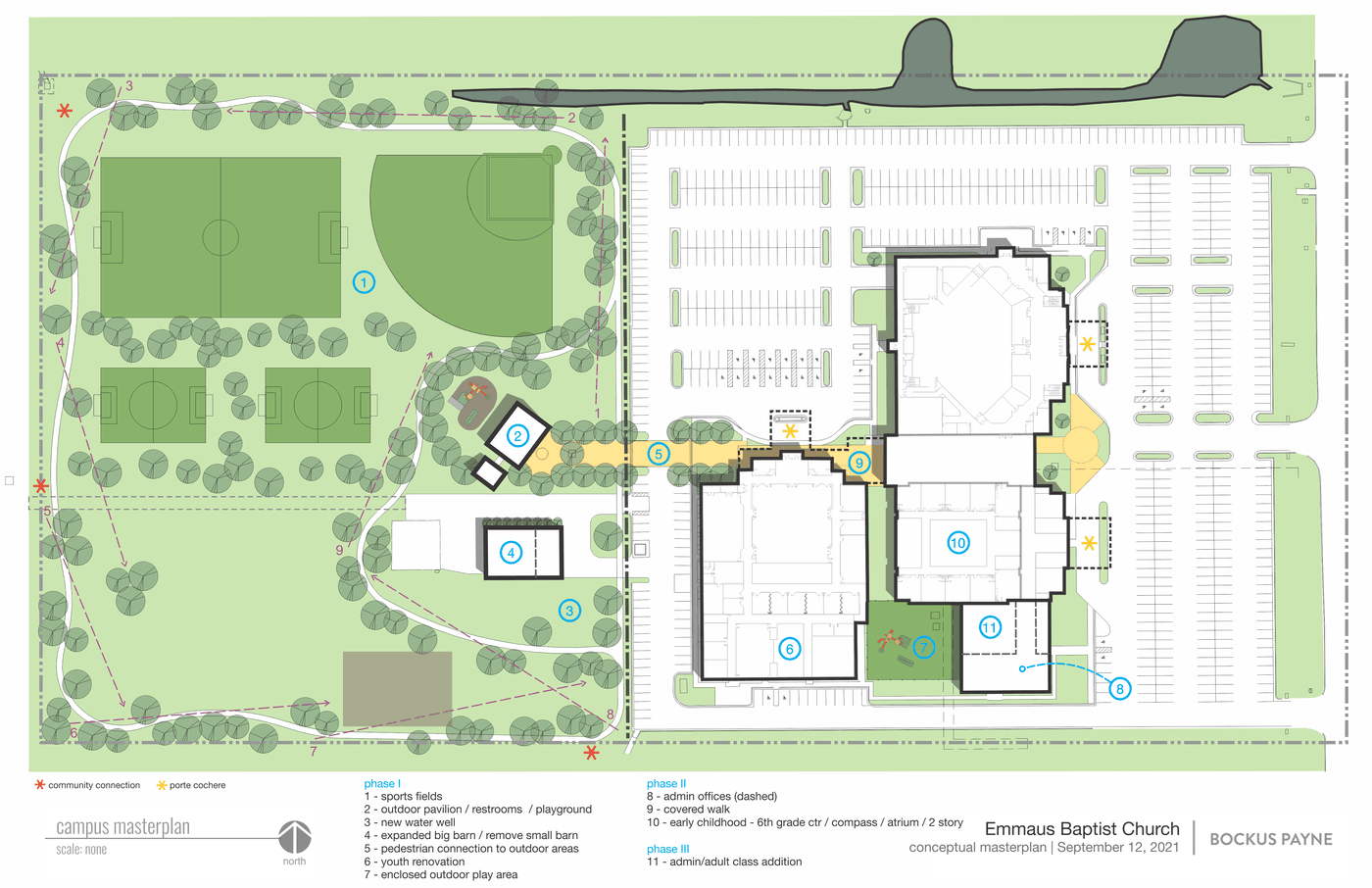 *On-The-Way Donations will help fund Phase 1
Phase 1 was approved unanimously by the church on October 3rd, 2021. This phase includes expansion of the youth room by allowing the students to have both their current space and the large conference room (Rooms 255 and 256 in Building C). The main portion of Phase 1 involves a number of projects in our back, west property, including an expansion of the barn, a new pavilion, a walking track, multi-use green space, and a kids' playground near the pavilion along with provisions for a new playground behind Building B when we're ready to move ahead with Phase 2.
Phase 2 is currently slated to be a new, two-story Preschool and Children's Building that would involve the removal of the center and north wings of Building B. This P&C Building would be attached directly to the Worship Center with a climate-controlled atrium, and we would repurpose the current south wing of Building B for office space.
Phase 3 would involve demolition of the remaining, south wing of Building B and allow us to build a two-story building attached to the new P&C building. This Phase 3 structure would include new offices on the first floor and multi-use classrooms on the second floor.