Important Schedule Updates
*Sunday School Cancelled for Jan. 16th
Due to the increase in Covid cases -- including many of our volunteers and leaders who aren't able to be here this weekend -- we are going to cancel Sunday School and the Sunday evening (5pm) worship service for January 16th.
We plan for Sunday School to resume on Jan. 23rd.
Students - watch for messages from Cody or Kennedy about updates and options for your ministry area.
*10:45am Worship Gathering still happening in-person and online
We will still have an in-person option for the Worship Gathering at the regular time. Feel free to come and join us!
We will also have the online option available through Facebook and YouTube.
*No Extended Session or Elevate Children's Church this Sunday
*No Sunday Evening Service for Jan 16th
*Students (Teenagers)
Watch for messages from Cody or Kennedy about options and updates for your ministry area.
*Nest Moms' Group postponed until Tues, Jan. 25th
*Wednesday Nights postponed until Wed, Jan. 26th
We won't meet on Wed, Jan 19th, but we look forward to starting the meal and groups on the 26th!
I will do another Facebook Live at 6pm on the 19th.
GriefShare and Music Ministry - watch for messages from Jim and Jeron about plans for your groups.
Thanks for being understanding about these changes. Our hope is that a one-week break will allow this wave of cases to pass and that we'll be ready to go with a regular Sunday schedule on the 23rd and a regular Wednesday schedule on the 26th!
Online Bulletin
As things are rapidly changing please check back here for the most accurate and timely information on events, changes, cancellations, etc.
UP | Worship Opportunities
Sunday Morning Worship Gathering
Sundays | 10:45am | Worship Center
Extended Care childcare (birth-3 yr old) Cancelled for Jan 16
Pre-K thru 1st Grade. Dismissed during the Worship Gathering. If this is your child's first time, please fill out the guest card in the seat back and bring it with your child. Elevate does not meet the 1st Sunday of every month.
LiveStream of the worship service is available through Facebook and YouTube.
Sunday Night Service Resumes | Sunday, Jan 23 | 5pm Cancelled for Jan 16
IN | Discipleship Opportunities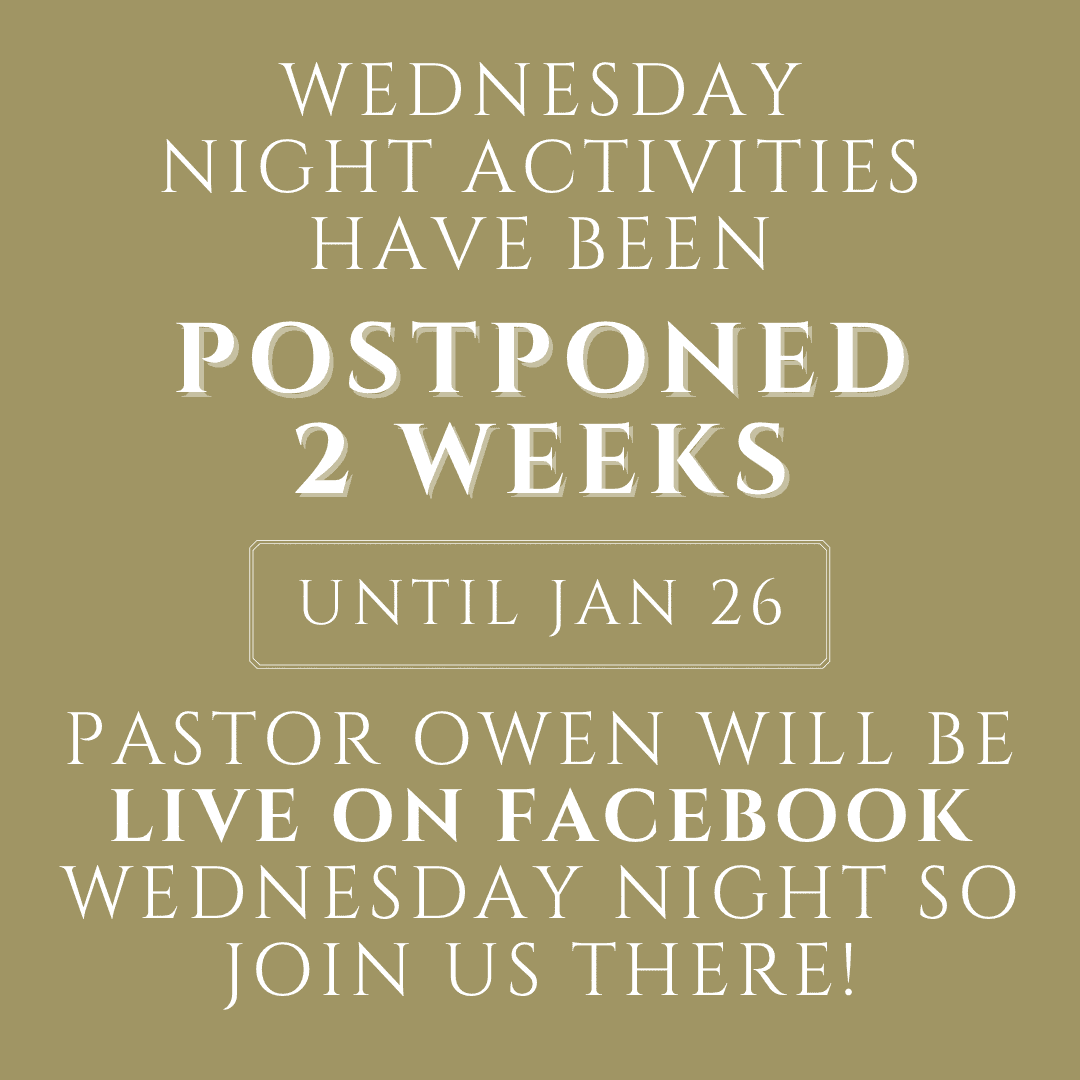 Adult Bible Study (Sunday School) - Cancelled for Jan 16
Sundays | 9:15am | Various Rooms
We have Groups for all ages and stages of life. They pray together, serve together, study God's Word, and minister to our community. Visit HERE for a current list of groups.
Join a Small Group
We encourage all of our members to practice discipleship through close relationships. If you don't have that type of relationship already, check out one of our existing small groups that meet at different times throughout the week. For more info visit click HERE.
Wednesday Fellowship Meal Postponed | Wed, Jan 26 | 5pm
Wednesday Night Groups Postponed | Wed, Jan 26 | 6pm | More info HERE
NEST | Tue, Jan 25 | 10am | $10/Book | A Group for Mom's of All Ages | Register HERE
Pastor's Potluck | Thur, Jan 24 | 11:30am | $5 | Catered Lunch | Sign-up HERE
Women's Coffee Night | Thur, Jan 27 | 7pm | Free
Marriage Night | Sun, Feb 6 | 5pm | $20/Couple (Incl. Dinner) $5/Child | Register HERE
YEAR-ROUND MISSIONS OPPORTUNITIES
Mary Abbott Children's House / Norman
Mary Abbott Children's House is a safe place for children who have suffered sexual, physical abuse, and neglect, as well as being a witness to a crime or in a drug endangered situation.
Moore Food Resource Center
Moore Police Department
Homeless Ministry / Ministry to Officers and those they come in contact with
Cleveland County Jail
Ministry to Inmates/Families/Jailers
Hope Pregnancy Center / South OKC
Volunteer at the South Center / Mobile Unit
Mission Norman
Food Distribution / Transitional Housing for Homeless families
Disaster Relief
Samaritan's Purse Partnership
Chainsaw Truck - Needing Men/Couples who can help to deliver the truck to Disaster Sites
Needing volunteers who can help respond to needs in our area after local severe weather.
Oklahoma Baptist Disaster Relief Partnership
Shower Trailer Ministry
Looking for Emmaus Members who would be interested in being an assessor immediately f following severe weather events in our area. (Example: Hail Storm in Norman)
Contacting Church members and neighbors to assess damage and need of assistance.
Moore Faith Medical Clinic | Volunteer Meal
3rd Thursdays | 5:30 pm | Emmaus Coordinator: Susan Ray
Each month Emmaus provides a meal for 30 clinic volunteers.
Van Drivers Needed to pick up patients / Emmaus Coordinator: Bill Ray
SS Classes Needed to help to provide a meal for one of the 3rd Thursdays of each month.
For more information contact Pastor Jim HERE.
Hope Is Alive Meal For South OKC Homes / Addiction Recovery
HIA House 5 - Kingswood Addition / HIA House 6 - S. 104th & Western
We will be providing a meal for residents at the two South OKC Homes. One home has 11 residents and the other home has 9 residents. We are committed to providing meals for both homes once a quarter in 2021. We are also helping to collect items each month to help with supplies for each home. If your family or small group would be interested in adopting a home or a month of supplies. For more information contact Pastor Jim HERE.
Compass Christian Preschool Enrollment
If you have (or know) a preschool- or kindergarten-aged kiddo ready to come to school it's time to enroll! Enroll HERE or contact Melissa Suttle HERE with questions.