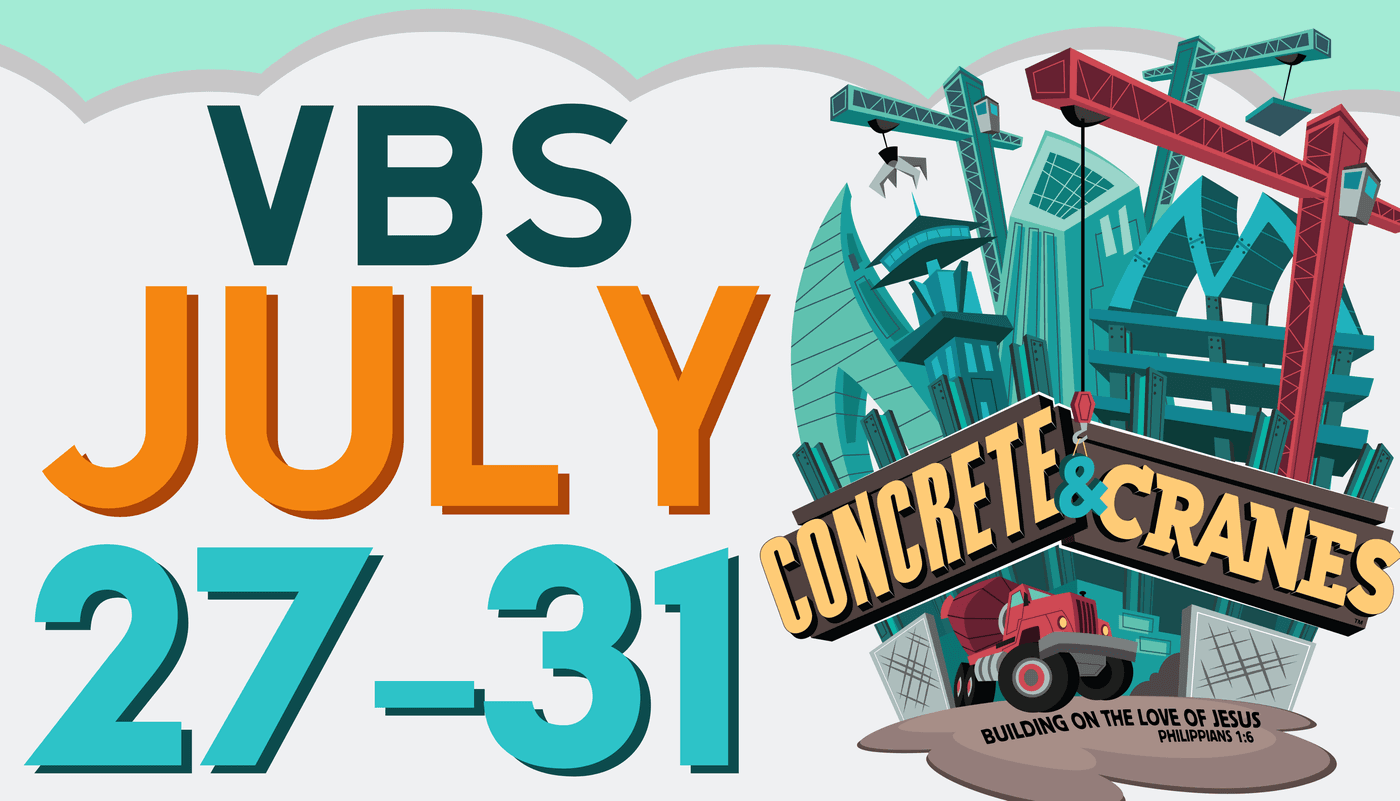 VBS - Registration opens July 1, and will close on July 24--if space is still available at that time. Online pre-registration is required, there will not be any in person registration during VBS. Space is limited, and registration could close at any time.
Registration is open for children who have completed Pre-K (must be 5 by Sept 1) through completed 6th grade.
As kids explore a world of concrete and cranes, rivets and rebar, bulldozers and backhoes, they will learn to build their faith on Jesus as they uncover the truth that He who began a good work will be faithful to carry it on to completion! Building On The Love Of Jesus!
Due to Covid-19, the following safety policies and procedures will be put in place for VBS this year at Emmaus. By registering your child to participate, you agree to the following statements:
Please note that Emmaus Baptist Church cannot guarantee that you will not be exposed to Covid-19 during VBS. Participants should evaluate their own risk in determining whether to attend. The CDC advises that people who show no symptoms can spread Covid-19 if they are infected, and any interaction with the general public poses an elevated risk of being exposed to the virus. By coming to Vacation Bible School at Emmaus Baptist Church, you acknowledge and agree that you assume these inherent risks associated with attendance.
Responsibility of Participants:
If your child has been sick or has had flu like symptoms within 24 hours of his/her first day of VBS, or any day thereafter, he/she will not be able to attend VBS for the entire week. This also applies to all volunteers.
Masks are not required to be worn during VBS, but are welcome to be worn by any participant or volunteer.
We ask that children do not bring anything physically with them to VBS any day (no Bibles, backpacks, toys, water bottles, etc.), unless something is needed for medical purposes, or if it's their missions offering they will leave at the door upon arrival. (Please provide this information in the comments section of your online registration.)
If your child shows symptoms or is tested for Covid-19 during the VBS week, you agree to notify Courtney Ingram (courtney@emmausokc.org) immediately.
Safety Precautions taken by Emmaus:
In addition to various changes in daily schedules, we will have additional cleaning procedures for all facilities used every day.
We have hand sanitizing stations posted all over our facilities, as well as available with each class to be used before/after each activity.
All snacks are pre-packaged, and only bottled water will be served to children.
Again, masks are welcome and available, but will not be required of any participant or volunteer.
By registering online, you acknowledge that you have read, understand and agree to abide by this policy, and that you have shared this policy with all members of your party or informed them of its requirements. Your participation is voluntary, and you assume all risks associated with attending. If you have any questions, or if you do not understand the policy, please contact Courtney Ingram (courtney@emmausokc.org).